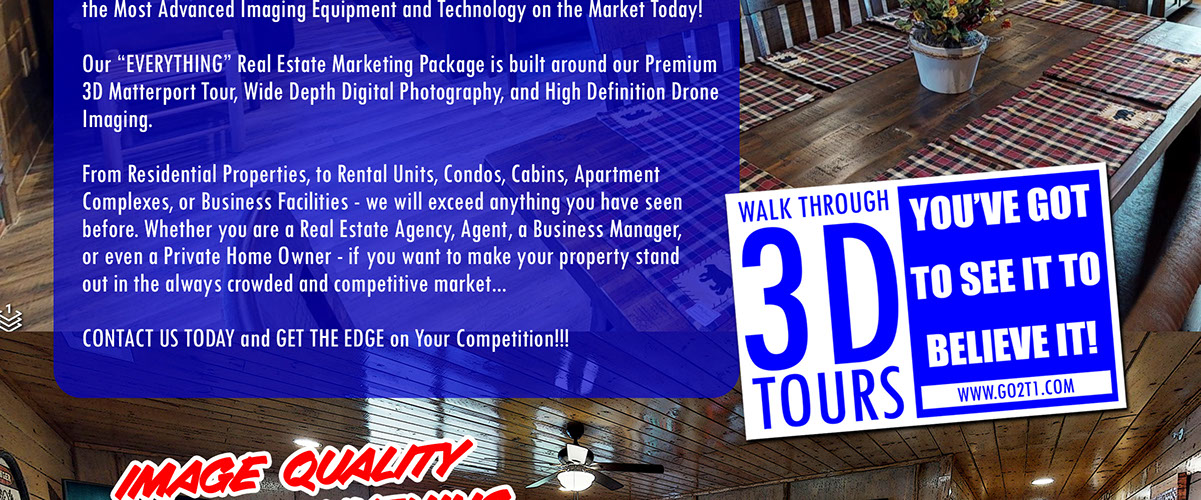 When it comes to separating your property from all others... there is no better way to do it than with one of the Most Advanced Imaging Processes you will ever see - our Premium 3D Tour!
We are among the most elite imaging team's in the country in having the equipment and technology to give you this AMAZINGLY AWESOME AND TRULY UNIQUE 360 & 3D Imaging Service. You have to see it to believe it - so make sure you check out our preview of a tours above...
When it comes to the Photographic Imaging of your Property - our job is to tell a story through a set of photos that will capture the imagination and literally bring it to life! Our goal is to make them feel Right AT HOME - BEFORE they even step through the front door for that very first time! From perspective, to perception, angles, and lighting - to making sure things are "just in the right place"... It's no secret that First Impressions are Everything... so make yours the ABSOLUTE BEST through our experienced team!
And finally, in order to give a full overview of your property, complex, or landscape - there is nothing like High Quality Drone Imaging to complete the package. Our Drone Footage is captured by a Federally Licensed FAA Drone Pilot - and is a MUST HAVE that will give you that little extra edge and truly showcase that "often referred to - but never seen" Bird's Eye View... except through Tier One - its captured via our High-Def Drone Imaging System.
When you want the best for your property - go to the team that will provide it - Tier One Imaging Solutions...
Give us a call or send us a message today and let us show you the difference we can make!